Dog beater William Legget 'not trusted with goldfish'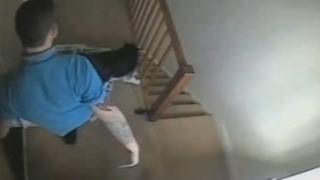 A judge has told a man she would not trust him "with a goldfish" after he was found guilty of beating two dogs.
William Legget, 19, of Bedminster in Bristol, pleaded guilty to five offences under the Animal Welfare Act.
Bristol Magistrates' Court heard Legget kicked a husky, stamped on its back and broke the hip of a puppy.
District judge Lynn Matthews said Legget's treatment of his animals amounted to "torture". He was jailed for 17 weeks for the offences.
He was also banned from keeping animals for life.
The offences took place at Legget's former home in Gravesend, Kent. He subsequently moved to Bristol.
Judge Matthews said she was "staggered" by what she had read in the veterinary reports.
"With the puppy it wasn't a slight fracture but the bone has broken away.
"The veterinary surgeon said that break was a result as extreme force. You applied that extreme force," she said.
Judge Matthews also said Legget had a lack of "courage" for not watching videos of his abuse which were shown to the court.
One of the videos showed Legget kicked one of the dogs 29 times.
Police uncovered the abuse when they were investigating another crime in Legget's block of flats and examined CCTV.