Bristol tandem death family to meet David Cameron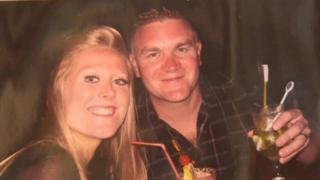 The family of a Bristol couple killed when a disqualified driver crashed into their tandem bicycle have been invited to meet with David Cameron.
Ross and Clare Simons died in 2013 after being hit by Nicholas Lovell who, with a history of driving convictions to his name, was jailed for 10 years.
Their families began a campaign for tougher sentences for disqualified drivers which has led to a law change.
They now hope to widen that campaign at 10 Downing Street next month.
Under the new law banned drivers could face up to 10 years in prison if they cause death on the roads and up to four years if they cause serious injuries.
Edwin Simons, Ross's father, said he wants to discuss further sentence increases with David Cameron, such as the punishments for drunk or drugged drivers, those who have stolen cars and those with no insurance.
"I can't wait. It's nice to know we're going to have a discussion on how far this campaign can go," he said.
The family's local MP, Chris Skidmore, joined with their efforts and led the debate in the Commons which brought about the law being changed.
He said: "We also handed in a 17,000 signature petition to No 10 Downing Street, and I am delighted that the prime minister has agreed to meet with us personally, so that the families can make the case that we need to go further still in changing the law on dangerous driving - in memory of Ross and Clare.
"We need to do all we can to prevent such senseless deaths from happening on our roads."
---
What are the maximum sentences for driving offences which cause serious injury and death?
Death by dangerous driving - 14 years
Death by careless driving when under the influence of drink or drugs - 14 years
Death by careless of inconsiderate driving - 5 years
Serious injury by dangerous driving - 5 years
Death by driving when unlicensed, uninsured or disqualified - 2 years
Source: Road Traffic Act 1988
---