Bristol MP's office sprayed after fracking vote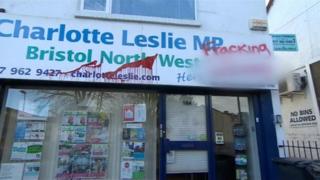 Obscene graffiti has been sprayed across the office of a Bristol MP who has voted in favour of fracking.
The offices of Charlotte Leslie, Conservative MP for Bristol North West, were targeted overnight on Wednesday.
Ms Leslie said: "It's a bit of spray paint - you have to do a lot more to offend me, but I can understand why people are upset."
Fracking is the method used to extract gas from underground rock but there are fears over the environmental impact.
On Monday, MPs overwhelmingly rejected a bid to suspend fracking by 308 votes to 52.
Ms Leslie added: "The responsible thing to do is find some kind of solution so we can keep our lights on... and keep our lifestyles to which we are all accustomed."
Earlier this week Tessa Munt, Liberal Democrat MP for Wells, was forced to resign from the government when she voted against it.
Avon and Somerset Police said it was investigating the vandalism.