Arnos Vale Cemetery needs volunteers for war graves project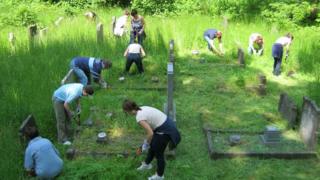 One of Bristol's largest heritage sites has appealed for volunteers to help in a project to restore 229 war graves.
Arnos Vale Cemetery is taking part in the Commonwealth War Graves Commission venture to maintain the graves of those who served in the two world wars.
Volunteers are also needed to run front of house and take groups on tours of the historical 45-acre site.
Staff held a special recruitment session on Saturday in a bid to boost volunteer numbers.
More than 300,000 people have been buried at Arnos Vale Cemetery since it opened in 1839. It is home to more than 60,000 headstones and monuments.
The Victorian garden cemetery, which is run by a charitable trust, was brought into public ownership in 2003 after decades of campaigning by local residents to save the cemetery from closure.
It relies on the support of local volunteers to keep the site running, with only a small number of full time employees.