Jamie Tipper death: Avon Gorge searched for 'specific items'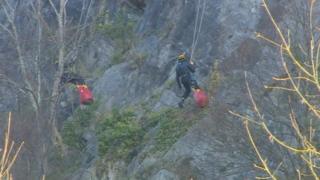 A search team on ropes has examined the cliff face of the Avon Gorge looking for "specific items" where a man was killed in a fall.
Jamie Tipper, 28, from Bristol, died after falling at the gorge on Saturday 20 December.
Det Insp Andy Bevan said the rope team had been asked to look for "specific items", but did not elaborate.
Mr Tipper's death is being treated as unexplained. A 24-year-old arrested on suspicion of murder remains on bail.
Det Insp Bevan, leading the inquiry, said: "We've received further information relating to the death of Jamie Tipper which has resulted in us calling in the rope access team to help with a search of the cliff face at Avon Gorge."
The police are also trying to identify a taxi driver who was on the Circular Road on Clifton Down between 19:00 GMT and 19:30 GMT when Mr Tipper fell to his death.
"We believe a member of the public spoke to the taxi driver shortly after Jamie fell to his death and we are yet to trace this taxi driver," he added.
Police would also like to talk to two men seen walking in the Circular Road area around the time Mr Tipper fell.
One man was smoking a cigarette while the other was seen near the cliff-edge warning sign.
Det Insp Bevan said: "I imagine there would have been some noise from the circumstance around Jamie falling so that may jog someone's memory who was out walking."