RAF's 'City of Bristol' has flypast in naming ceremony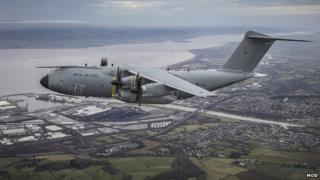 A flypast of the RAF's first A400M aircraft, the City of Bristol, has taken place as part of a naming ceremony.
The A400M can travel faster and further and carry more cargo and people than its predecessor, the C-130 Hercules.
It is unusual for the RAF to name its aircraft but it has been done to honour Bristol's aerospace industry.
The naming ceremony was held at Airbus in Filton where the aircraft wings are being manufactured.
'Skilled jobs'
A total of 22 of the next-generation aircraft have been ordered by the Ministry of Defence's procurement arm, the Defence, Equipment and Support (DE&S) based at Abbey Wood.
Defence minister Phillip Dunne, who was at the ceremony earlier, said: "The A400M programme has created or secured work for around 900 people at companies based here in Bristol and is providing skilled jobs in manufacturing, engineering and supply chain roles.
"Many of these jobs require training to acquire specialist new skills needed to help keep the UK aerospace sector at the forefront of this high technology industry."
RAF's Chief of Materiel Air, Air Marshal Simon Bollom, said naming the aircraft was "a continuation of historical ties between Bristol and the Royal Air Force".
He added: "Bristol is at the heart of the UK aerospace community which has progressed through time and industry from the Bristol built engines like Jupiter - the most successful aero engine of the 1920s - through to the famous jets such as Concorde."