Bristol's Southmead Hospital 'put patients at risk'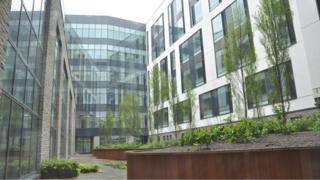 Critical care and emergency services at Bristol's new £430m hospital have been criticised by a health watchdog.
A Care Quality Commission (CQC) report said Southmead Hospital, which opened in May, put the safety of patients and the wellbeing of staff at risk.
It also found A&E patients were left waiting on trolleys for over 12 hours until a bed became available.
North Bristol NHS Trust said extra staff had been hired to deal with the problems since the inspection was made.
The inspection, which was carried out in November, rated Southmead Hospital as "requiring improvement" in areas such as critical care, maternity and gynaecology and surgery.
'Significant issues'
The CQC said the trust was facing serious performance and financial issues and improvements were needed for services to be "safe, effective, responsive and well led".
It found "significant issues" with the flow of patients through the hospital and that the four-hour target for patients attending A&E to be admitted, discharged or transferred was not being met.
However, inspectors identified a number of areas of outstanding practice - including the dedication and commitment of staff, and found every service to be caring.
CQC's chief inspector of hospitals, Professor Sir Mike Richards, said he wanted to congratulate staff at Southmead for the way they coped with the "upheaval" of moving into the new hospital.
But he noted there were some "longstanding performance and financial issues to resolve which have a direct bearing on patient safety and the wellbeing of the staff".
Andrea Young, the chief executive of North Bristol NHS Trust, said there had been "significant improvements" since the inspection.
She said: "We have recruited additional nursing staff and consultants and we've identified additional places for patients to be assessed so they don't wait a long time."
South Gloucestershire Clinical Commissioning Group's Dr Jonathan Hayes said he "welcomed" the CQC's report, and accepted that "there are clearly many internal actions that the Trust needs to take in order to improve patient care and experience as it continues to settle into the new hospital".