Bristol bigamist jailed after wedding photos appear on Facebook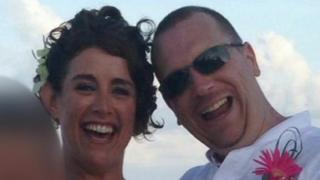 A man who led a double life has been jailed for bigamy after pictures of his second wedding in Mexico appeared on Facebook.
Adrian Linham, 43, of Winterbourne, Bristol, married Hayley Totterdell while he was still wed to his wife of seven years Liz Linham.
He told Mrs Linham he often had to work away to hide the fact he was with another woman, the court heard.
North Somerset magistrates jailed him for four months and two weeks.
Peter Searle, magistrates' chairman, said: "The length of deception is nothing short of incredible. You have shown no remorse and have humiliated your wife."
Mrs Linham, who lives in Failand, Bristol, said she received a letter from Linham's mother in August 2014, saying her son had remarried and she was sorry about their "divorce".
She then found confirmation of his second marriage on Facebook.
The court was told Linham had married again in July 2014.
---
In court: Steve Brodie, BBC West correspondent
Adrian Linham's extraordinary double life ended when his own mother was sent pictures on Facebook of her son's second and illegal wedding.
The police brought an unusual prosecution for bigamy.
In court the magistrates handed down the maximum prison sentence they could, given his guilty plea. He sat alone in the dock.
His new "wife" was standing by him but failed to arrive in time to hear his admission of cheating on a grand scale.
---
"How he could treat me... like that, it disgusts me," said Mrs Linham, who was awarded £1,000 in compensation by magistrates.
"I'll never trust anyone again, never. I'll never get married again, I don't even know if I could have a proper relationship ever again."
Linham's second wife had no idea he was still married, the court heard.
His solicitor, Sue Baker, told the court he admitted when he was arrested that he had committed bigamy.
She said her client had intended getting divorced from his first wife, after the wedding to his second in Mexico, "but he was putting the cart before the horse".
Linham has now begun divorce proceedings.