Bristol Mayor George Ferguson apologises for speeding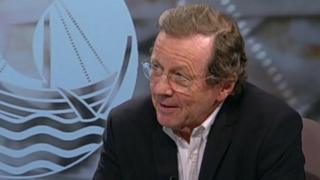 Bristol's elected mayor, who spearheaded the introduction of 20 mph zones in the city, has apologised after being caught speeding.
George Ferguson was caught doing 35 mph in a 30 mph zone on the A4 Portway Road.
Mr Ferguson said it was "a stupid mistake".
He told the BBC: "Speed limits are there for a good purpose. We should respect them, and I do respect them."
Mr Ferguson was caught on 8 January, the Bristol Post reported.
He accepted that his "unblemished" licence would now have an endorsement on it and said he "made no excuse at all".
The mayor said he will pay the fine and "will probably pay a lot more in reality".
Mayor Ferguson spearheaded the roll-out of a £2.3m programme of 20 mph zones across the city.
He has said slower speed limits can improve safety and reduce the "negative impact of anti-social speeding to our communities".