Call to scrap 20mph zones on key roads in Bristol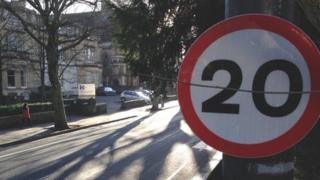 New 20mph traffic zones across Bristol should be scrapped on key roads, according to Conservative councillors.
The £2.3m city-wide phased scheme has seen 20mph zones go into operation in areas including Bishopston, Clifton, Eastville, Hillfields and Fishponds.
But Tory leader Mark Weston says on "key arterial roads" it is "making a nonsense of moving around the city".
Bristol City Council said the scheme makes roads safer and most residents support it.
'Got it wrong'
However, the authority's cabinet is meeting to decide whether to accept a budget amendment proposal from the Conservatives to spend £250,000 on scrapping zones on certain roads.
Mr Weston said the council has "got it wrong" and he believes the speed limits made roads more dangerous, slowed traffic and increased emissions.
"There are quite obviously some arterial roads which are now 20 miles an hour which no one is adhering to because it's perfectly safe to do 30," he said.
Avon and Somerset Police said since September it had caught more than 660 people driving over the speed limit in 20mph zones.
The Alliance of British Drivers has said putting the zones on main roads in Bristol is "crazy" and could drive people out of the city.
The council's roll-out of the scheme will see all residential roads in Bristol operating 20mph zones by June.