Severn Beach Slave trade memorial plan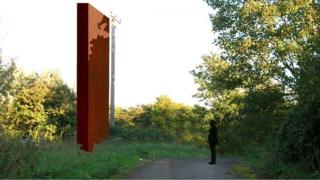 Plans for a memorial to victims of the transatlantic slave trade are being proposed for Severn Beach near Bristol.
London-based architect Herman Morgan said he came up with the idea after discovering there is "no significant slave trade memorial in the UK".
He said Severn Beach was the right place for the steel alloy structures owing to Bristol's historic connection with slavery.
His company hopes to submit a planning application within the next two months.
Mr Morgan said ideas for the memorial were conceived in 2007 during the 200th anniversary of the slavery abolition act.
He said: "It's comprised essentially of four elements - it's along a series of landscaped paths and the idea is that you move through them, as opposed to looking and staring at them.
"It's more about the emotional connection. There are four elements - the unknown, displacement, no return and remembrance.
"We thought the Severn Beach coastline has a very powerful resonance with the slave trade. Especially in Bristol.
"And at the end of the actual memorial itself, you end up arriving at a point where you are looking towards the Bristol Channel where the ships came and left - so it's quite poignant."
He said the memorial would cost £1.5m in total but the firm plans to raise the funding in stages.
The first stage aims to raise £40,000 which would pay for the project's development and submission to planning. They are also in the process of applying for funding from the Arts Council and other organisations.
More than three million Africans were shipped across the Atlantic in the 18th Century, before Parliament passed the 1807 Abolition of the Slave Trade Act, banning the trafficking of Africans as slaves.
Britain's act to abolish slavery itself was not passed until 1833.