Southmead's 23 inpatient rooms get hand bells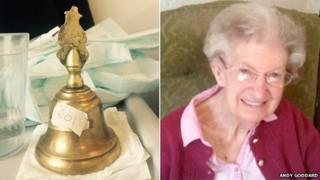 Brass bells are being used by some in-patients at a Bristol hospital while an electronic alert system is installed.
Southmead Hospital said "proper testing" was done "to meet the need" before it opted for 23 hand bells at a cost of £91.77.
A spokeswoman for the problem-hit £440m hospital, which opened last May, said it was a short-term solution.
But city MP Charlotte Leslie said it was "yet another example of glitches in the system".
The bells are being used in adapted treatment rooms alongside the main wards. The wards have an electronic call system.
In December, a patient was given a brass bell to use while being treated.
'Problems expected'
With regard to extending the plan, the hospital spokeswoman said: "A doorbell was also tried but the metal hand bells were found to be the most appropriate as they could be heard in more ward areas."
Details of the scheme came from a Freedom of Information request made by the BBC to Southmead Hospital after patient Molly Goddard, 84, was given a brass bell to call for assistance.
Bristol North West Charlotte Leslie MP said: "Whilst it's good they are making alternative arrangements, it's yet another example of glitches in the system."
The Conservative politician added although "teething problems" were expected, any further adaptations to the building "may well cost more because the hospital was built under a PFI arrangement".
The inpatient rooms are used by the hospital as a short-term place where patients are placed to free up emergency beds prior to admission to wards.
The hospital said the new call alert system would be in place soon, relieving the need for the metal bells.
'Burnt toast'
It was also revealed on Tuesday that the hospital's fire alarm had gone off 80 times between its opening in May and the end of December.
A Freedom of Information Act request revealed the main causes as burnt toast, cooking and accidental activation of call points.
Covers have been put over red fire call points by security doors that also have a green break-glass to open the doors in an emergency.
"We had several months where we had these false alarms with people pressing the [fire] break-glass - that has more or less stopped," facilities manager Simon Wood said.
"If we discover any we've missed - there's about 4,000 - they'll get a cover over them."