Concern grows for missing teenager Rebecca Watts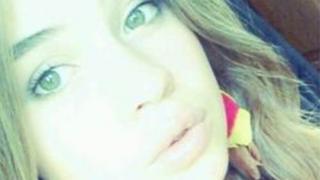 Concern is growing for a 16-year-old girl missing from the Bristol area since last Thursday.
Rebecca Watts was reported missing after not returning to her home in St George, Bristol.
Officers said it was "out of character" for her not to contact somebody if she had planned not to come home.
More officers were assigned to the investigation over the weekend. She is described as white, 5ft 4ins (1.6m) tall with long red hair.
It is thought she was wearing a blue puffa-style jacket on the day she went missing.
Addressing his daughter at a police press conference, Rebecca's father Darren Goldsworthy said she was "in no trouble at all".
"We just want to make sure you are ok," he said.
"If you can, please give us a call or a text just to let us know you are safe.
Mr Goldsworthy also appealed to any of Rebecca's friends with information about her whereabouts to contact Avon and Somerset Police or her family.
"You might think you are helping Becky by not telling the police where she is, but you are not," he said.