Missing Rebecca Watts: Searches in Bristol continues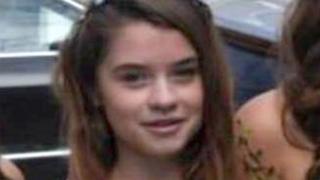 The hunt for a missing Bristol teenager, who has not been seen for a week, is continuing.
Rebecca Watts, 16, was reported missing after not returning to her home in the St George area last Thursday.
She left home with her mobile phone and laptop but did not take any clothes with her. Police say her disappearance is "completely out of character".
A nature reserve and the family home were searched by forensic police officers on Wednesday.
Police have been searching scrubland near the home on Thursday.
BBC reporter Andrew Plant said officers were using poles to look through the area during lunchtime.
Rebecca's father Darren Galsworthy and stepmother Anjie were taken from the home before the search, with police saying the hunt was "standard practice".
Earlier, police using ropes had searched some steep areas of the Troopers Hill nature reserve, which is about half a mile from the family home.
But officers said they had made no significant finds.
An organised search by members of the public - during which posters of Becky were handed out - also took place on Wednesday.
Her grandfather, John Galsworthy, said the response to the search was "satisfying for the family" but that they were very worried.
"It's the not knowing that is the distressing thing," he said.
Rebecca, known as Becky, is described as white, 5ft 4in (1.6m) tall, with long red hair. It is thought she was wearing a blue puffa-style jacket on the day she went missing.
Det Insp Richard Ocone said: "Firstly, I want to say directly to Becky - you are in no trouble.
"All we are concerned about is your wellbeing and we just want to make sure you are OK.
"If you can call home or one of your friends or call us on 101, we can help you to work through anything you may be worrying about.
"I would also ask anyone who might know where Becky is to come forward and let us know."
Det Insp Ocone added that dedicated teams of officers were involved in the search with support from the police helicopter and house to house enquiries were continuing.
"We're continuing to search the local area, concentrating on open areas and parkland," he said.
"This is a routine part of a missing persons search that we always undertake to look for anything that Becky might have dropped."