Missing Rebecca Watts: Park lake is searched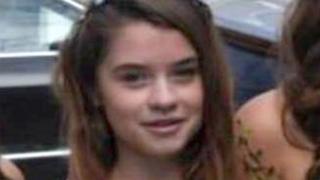 A lake is being searched as police attempt to locate a teenager who has been missing for more than a week.
Rebecca Watts, 16, was reported missing after not returning to her home in St George, Bristol, eight days ago.
Police are searching the lake in St George Park. They have previously searched Troopers Hill nature reserve.
Meanwhile the head of Avon and Somerset Police's major crime investigation unit, Det Supt Liz Tunks, has taken over the case.
She is now speaking with police missing people experts to ensure "all possible tactics are being considered".
"The local community will see an increased policing presence as the investigation enters its second week, including additional specialist search officers from neighbouring forces drafted in to assist us," Det Supt Tunks said.
"We are carrying out a detailed forensic search of Becky's home where she was last seen to make sure there is nothing we have missed, and intensifying our search of the local area so no stone is left unturned."
'No specific intelligence'
The family home has also been scoured by forensic officers, as well as a car parked outside it.
Specialist police dogs have been brought in from South Wales and officers from forces in Wiltshire, Gloucestershire as well as Devon and Cornwall have been drafted in.
Rebecca's father Darren Galsworthy and stepmother Anjie were taken from the property before the search, which police described as "standard practice".
Police have also said the search of the lake in St George Park is "routine" and they have "no specific intelligence" about the area.
Officers said the search may extend to other nearby lakes.
Rebecca, known as Becky, is described as white, 5ft 4in (1.6m) tall, with long red hair. It is thought she was wearing a blue puffa-style jacket on the day she went missing.
She left home with her mobile phone and laptop but without a change of clothes. Her disappearance is described as "completely out of character".
Despite hundreds of leaflets being handed out and several searches organised by members of the public, there has been no sign of the teenager.
Police have also used social media extensively in a bid to track her down using the Twitter hashtag #findbecky.
Officers claim the campaign has reached about two million people.