UWE students test 'wee-lectricity' power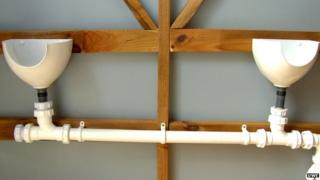 A "wee-lectricity" experiment which could pave the way for urine to provide power in remote areas has been launched.
The project uses bacteria to convert urine into electricity.
Students at the University of the West of England (UWE) are being asked to make "donations" to the project via a special urinal on campus.
Oxfam, which has also worked on the scheme, hopes the technology could be used in disaster zones.
Dr Ioannis Ieropoulos, from UWE, said the technology was "about as green as it gets".
'Huge step'
"It uses live bacteria, a naturally occurring bacteria, for which urine is their feedstock and they take it, they consume it and they produce electricity," he said.
Scientists believe the technology could offer a cheap way to power lights for aid agencies in the field.
Andy Bastable, from Oxfam, said the invention was a huge step forward.
"It is always a challenge to light inaccessible areas far from a power supply," he said.