Balloons released in memory of murdered Becky Watts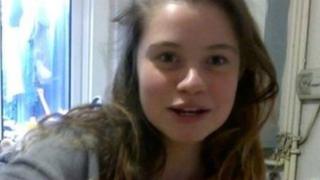 Hundreds of multi-coloured balloons have been released in memory of murdered Bristol teenager Becky Watts.
The 16-year-old was last seen on 19 February and was reported missing the following day.
Her body was found on Monday after an extensive search of various locations across the city.
Becky's stepbrother Nathan Matthews, 28, has appeared in court charged with her murder. Five others have been charged in connection with her death.
People from across Bristol joined those from the community where Becky lived in St George Park for the mass balloon release.
Becky's grandfather John Galsworthy said the family was "shaken to the core" and thanked everyone who had turned out for their "love and many, many prayers".
The event was organised by Bonnie Badman to help "lift everyone's spirits".
"It's been great to light up the grey sky in memory of Rebecca," she said.
Becky father and stepmother Darren and Angie-Mae Galsworthy attended the mass release.
Julia Packer who also attended said sending "bright coloured balloons into the sky shows the family we're behind them 100%".
Around the corner from the park St Ambrose church has been kept open to allow people to sign a book of condolence.
The Reverend David James said more than 500 people have visited the church to offer words of support to Becky's family after hearing the "shocking and appalling" news of the discovery of her body this week.
"This is where Rebecca would have come as a young child to sing carols and sadly that's not very long ago," said Mr James.
"One of the difficulties is that words fail all of us but we want to be there to provide a focus for grieving and to give comfort and hope."