Becky Watts murder: Missing laptop and phone found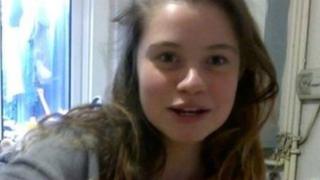 A missing laptop, mobile phone and tablet computer belonging to teenager Becky Watts have been found by police investigating her murder.
Becky, 16, went missing in Bristol on 19 February. Body parts were found at a house in Barton Hill on 2 March following extensive searches in the city.
Police have not revealed where the missing items were found.
Becky's stepbrother, Nathan Matthews, 28, has been charged with her murder.
Avon and Somerset Police have said searches in the St George area, where Becky lived, and Barton Hill would continue for the "next couple of weeks".
Det Supt Liz Tunks said: "There are specific forensic examinations which we need to complete to help establish exactly what happened to Becky."
The force's primary aim, she said, was to conduct "a meticulous and exhaustive inquiry" into Becky's death.
Five others have also been charged in connection to the case.
Mr Matthews' girlfriend, Shauna Hoare, 21, has been charged with perverting the course of justice.
Karl and Donovan Demetrius, both 29, Jaydene Parsons, 23, and James Ireland, 23, have all been charged with assisting an offender.