Bishopsworth pool 'world class' skatepark project starts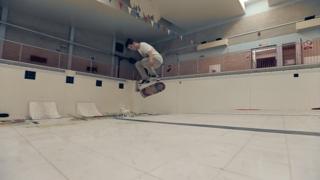 Work has begun to turn a derelict swimming pool into a "world class" indoor skatepark.
The former pool in Whitchurch Lane, Bishopsworth, Bristol, is set to be transformed after a public consultation with residents on its future.
Community interest company Transitions Skate, which is leading the project, said the facility would "compete with some of the best in the UK and Europe".
They hope it will open in the summer with help from local businesses.
Bristol City Council has agreed to lease the site rent-free for 25 years as long as it is "run for the benefit of the community".
Andre Seidel, from Transitions Skate, said they were "extremely excited" about the project.
"Not only will Bristol be getting the flagship skatepark it deserves, but Bishopsworth will also be getting a facility where young people are welcome to socialise and participate in physical activities," he said.
Mr Seidel said the project's current finances had come from a business loan, the firm's own reserves and online fundraising.
He said the money "raised from those streams" would go towards paying for the skatepark itself and the entrance hall, at a cost of about £108,000.
"The next hurdle is finding between £150,000 and £300,000 to complete phases two and three which include the cafe and the meeting rooms," he said.
Bristol's mayor George Ferguson said it was "heartening" to see a disused building "converted and regenerated to provide facilities for the good of the community."