Simon Pegg opens Bristol University's new theatre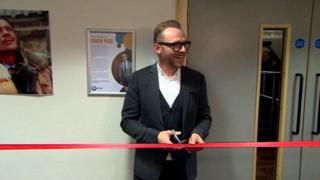 The Hollywood actor and comedian Simon Pegg has returned to his former university to open a new theatre named in his honour by its students.
Bristol University's new Pegg Studio Theatre is based within the students' union building, which has had a £30m revamp over the past five years.
The whole block was officially opened by the university's chancellor Rt Hon Baroness Hale of Richmond.
Sam Budd from the students' union said the new facilities were "world class".
Speaking after the ceremony Spaced star Pegg said the building had been so beautifully changed and modernised though there were parts he still recognised, almost a quarter of a century after leaving.
"It's a different building now - it used to smell of beer and students," he said.
The Richmond Building was built in 1965 and caters for the 22,000 students.
Apart from the student theatre, the building also includes 200 student study spaces, two theatres, two cafe bars and dance studios.
Prof Sir Eric Thomas, vice-chancellor, said: "We have always been very lucky to have such a large students' union building, with so many facilities under one roof, but it was looking tired and we were keen to bring it into the 21st Century."
Other rooms within the Richmond Building have also been named after other famous Bristolians.
The Stephenson Room is named after Paul Stephenson who successfully campaigned against Bristol Omnibus Company's racist policies in the 1960s.
George Odlum, who became the first black students' union president in UK in 1958 at Bristol University has also been remembered.
Pegg, 45, graduated from Bristol University in 1991 with a BA Hons in TV, Theatre and Film.
He has starred in numerous films including Shaun of the Dead and Hot Fuzz - both of which he also co-wrote - and Star Trek.