Bristol residents' parking: Montpelier scheme approved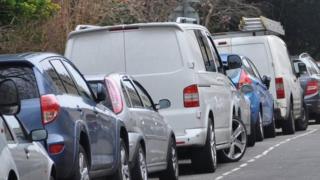 A further area for Bristol's controversial residents' parking zone has been approved by the city council.
The scheme, for the Montpelier area of the city, is part of mayor George Ferguson's plan to stop commuter parking.
It is due to go live mid-July and will run from 09:00-17:00 Monday to Friday.
Earlier this month the scheme went live in the Clifton Village area following a campaign of opposition led by many businesses and residents in the area.
Those in favour argue it will allow people to park outside, or close, to their homes.
A council spokeswoman said in Montpelier there will be up to four hour pay-and-display bays near to shops and community facilities.
She added, subject to getting a ticket from the machine, the first 30 minutes are free.
Montpelier is the ninth area out of the council's current programme of 12 zones.
In June, the scheme rolls out to Clifton East with a further plan to introduce limited waiting in Clifton Downs, "subject to consultation".