'Terrifying' Bristol pharmacy robber sentenced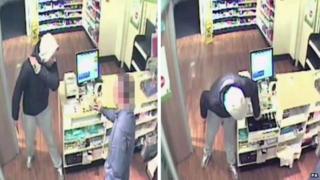 An armed robber who threatened staff at Bristol pharmacy with a metal bar and knife in an "absolutely terrifying" raid has been jailed for 40 months.
Mark King, of Stackpool Road, Southville, threatened staff who were forced to hand over cash from the till.
During sentencing, Judge Martin Picton told King: "For them it was absolutely terrifying."
Bristol Crown Court was told that King was homeless at the time of the "drug-motivated" robbery.
Judge Picton added: "You were in close proximity and they were trapped in a point where escape routes were limited.
"Nothing you desired that day justified or merited what you did."
King admitted the charge during a preliminary hearing on 26 February after seeing the CCTV footage of the robbery.
The convicted robber, who has a four-year-old daughter, has previously been appeared before courts 18 times for 49 offences.
Sentencing took place on Monday.