Bristol North West MP Charlotte Leslie denies leaking notes of private talks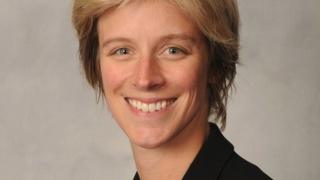 A Bristol politician has denied claims she leaked notes of private talks made in Health Select Committee meetings.
Conservative MP Charlotte Leslie told the Commons on Wednesday that Labour delayed a report after the committee found evidence showing NHS privatisation had slowed since 2005.
The remarks prompted four Labour MPs to allege she had "openly leaked" private information and was being investigated.
Ms Leslie said she was referring to committee papers already in public.
She said no complaint had been made against her.
The Speaker John Bercow concluded the Bristol North West MP she was "not evidently out of order" when she raised the issue during Prime Minister's Questions.
He added: "Whether it was wise or appropriate to raise matters relating to the internal working of a select committee in Prime Minister's Questions is a different matter on which members will doubtless have views."
He also said that the mutual trust between select committee member and confidence that private discussions would remain confidential were important to the effectiveness of committees.
Mr Bercow confirmed that the matter had been settled and no referral was being made to the standards committee over Ms Leslie's actions.