Bristol man David Mace jailed for rape and child sex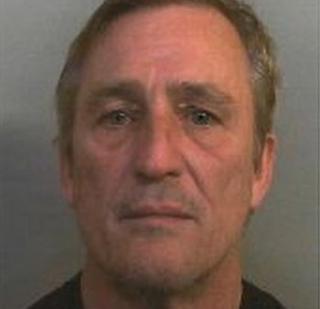 A man who carried out a string of sexual assaults on vulnerable women and children under the guise of Pagan rituals has been jailed for 17 years.
David Mace, 59, of Bishport Avenue, Bishopsworth, Bristol, pleaded guilty to 16 offences including rape, child sex and voyeurism.
Bristol Magistrates' Court heard Mace assaulted a number of women and girls between 1996 and 2013.
Avon and Somerset Police described his crimes as "appalling and abhorrent".
'Perverted pleasures'
Mace set up an intricate network of cameras around his flat to record his unsuspecting victims.
"Those secret recordings had taken place over a protracted period of time and involved considerable planning and forethought on his part," prosecutor Ray Tully said.
The court heard Mace "painstakingly prepared" the repeated rape of a 20-year-old woman.
"He had taken time with the positioning of the cameras and the position of the bed clothes - effectively setting up the scene," Mr Tully said.
In a 75-minute film he is shown carrying his unconscious victim into a bedroom and repeatedly raping her.
The court heard Mace has child sex convictions dating back 40 years.
Judge William Hart told Mace he "placed his own perverted pleasures above all else" adding "decency is a characteristic wholly foreign to you".
Mace was placed on the sex offenders register for life.
Mace's friend Kenneth Gavens, 62, of Coleshill Avenue, Hartcliffe, Bristol, was also jailed, for 29 months, for sexual activity with a child and possessing extreme pornographic images.
The court heard the images were "grotesque" and "simply stomach churning".
Det Insp Larisa Hunt said: "A number of these offences were carried out under the guise of Pagan initiations and rituals - preying on the victim's vulnerability.
"Some of the victims were unconscious during these sustained attacks.
"These offenders took advantage of vulnerable young girls and exploited them for their own sexual gratification.
"In addition to the attacks themselves, Mace filmed a number of the incidents - adding further anguish for the victims."
She added that victims were "continuing to receive all the support and help they need".