Candidates fight for closed City of Bristol campus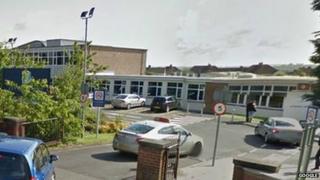 An unwanted college campus near Bristol must remain in use for education, the area's election candidates have agreed.
The City of Bristol College campus at Soundwell will close in July with lessons moved to other sites.
The college said the move would be better for students but Conservative candidate Chris Skidmore said he wanted education to continue there.
Liberal Democrat's Adam Boyden and Labour's Jo McCarron both agreed the centre should stay open.
UKIP's Duncan Odgers said there should be evening education provision there.
The candidates were speaking on a BBC Radio Bristol election debate programme.
City of Bristol College said the closure was part of a move to "refocus resources" with 1,800 students moved to other campuses.
'If there's a will'
No staff will lose their jobs over the move and no courses are due to close. But the site will be put up for sale in the summer.
Mr Skidmore said: "We must ensure that site is not sold off for anything apart from ensuring we have further education there.
"If I'm the MP for Kingswood. I will be fighting damn hard to ensure we have educational provision on that site. It has been part of Kingswood's DNA."
Mr Boyden said: "There may be alternative providers in the area or region who might want to use it.
"There must be some way of keeping education at that site if the buildings are up to it, which I believe they are. If there's a will there's a way."
Ms McCarron said the news of the closure was a "complete surprise" and alternatives were too far away.
"It's really important that the kids living there have facilities that are close to home and walkable distance, especially those with learning difficulties.
"If the facilities move, then that is going to put more pressure on them."
The college said the move to other campuses would be to "better accommodation" and "improved facilities" which would offer an "enriched student experience".
---
The candidates for the constituency are:
Adam Boyden, Liberal Democrat
Liam Bryan, Vapers in Power
Julie Lake, BNP
Jo McCarron, Labour
Cezara Nanu, Green
Duncan Odgers, UKIP
Chris Skidmore, Conservative
Richard Worth, TUSC
---