Bristol One25 opens night drop-in for women sex workers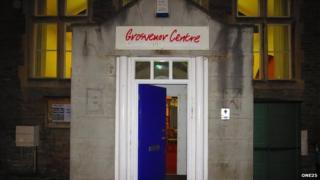 A night-time drop-in centre for female street sex workers has opened in Bristol.
Charity One25 said it would offer a "safe, women-only space" and crisis care for women with emergency health needs or following an attack.
It will open on Fridays from midnight until 06:00 for a three-month pilot.
Josie Forsyth, from One25, said it would be "a lifeline for the 150+ women still trapped on Bristol's street sex-work scene".
"The women we support - 80% of whom are homeless - have repeatedly asked in consultations for a night drop-in because they find it very difficult to access existing night shelters due to location far away from the red light district/dealing areas, too early curfews or the mix of men there where they can be subject to abuse or exploitation," she said.
The centre, on Grosvenor Road in St Pauls, is staffed by volunteers and women will be provided with food, hot drinks, showers and free clothes.
Women can also access advice on the daytime and other night-time support available in the city.
Service user Zelda said: "There've been times in my life where I had been raped, was homeless - so many situations - and just felt lost at that time of night and wished there was somewhere like this, a night drop-in, to go to.
"One25 is a really safe place to come and always with people to talk to when you feel alone. The night service will be a lifeline for ladies who need somewhere safe to go - really, really valuable."
One25 said it hoped to "to gradually increase the nights it is open".