CJ Hole lettings agency in rent rise protest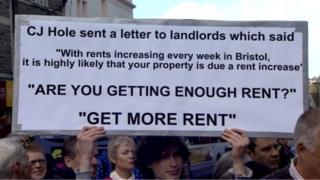 A petition with more than 11,000 signatures has been handed to a lettings agency which wrote to landlords suggesting they put rents up.
CJ Hole in Southville, Bristol, wrote to owners asking if they were "getting enough rent" and that it was "highly likely" their property was due an increase.
Protesters gathered outside the firm's branch to hand over the petition.
CJ Hole Southville said it had only sent the letter to prospective clients.
Protester Anny Cullum, from community organisation Acorn, said they were demonstrating against "bad practice" and "exploitation of our incomes".
Ms Cullum said the protesters were asking CJ Hole Southville to retract the letter and to sign Acorn's ethical letting charter.
A spokesman for CJ Hole Southville said it was "essential" landlords and tenants could "operate on fair and free-market principles"
He said: "Our approach to landlords was to ensure that appropriate fair and free-market rents were in operation.
"Artificially low rents will not encourage new rental properties to come forward or for investment to be made into existing assets, thereby harming the overall rental market in the locality.
"This benefits no-one in the longer term."
A separate demonstration - also about Bristol's homeless and housing situation - took place later in the city centre. About 200 people marched from the Bearpit in Broadmead to City Hall on College Green.