Temporary freeze on Bristol's Hackney cab numbers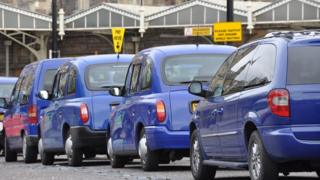 The number of Hackney cabs operating in Bristol has been temporarily frozen, while the city's transport strategy is reassessed.
Bristol City Council also agreed to a survey of taxi demand amid concerns that the current policy, implemented in 2008, is no longer fit for purpose.
Taxi driver Tim Lloyd said drivers welcomed the cap on new licences.
"We've been trying to get the re-regulation of this trade for ages," Mr Lloyd said.
'Too many cabs'
"The last survey in 2008 recommended 37 new licences for Bristol but now there's about 200 extra.
"Hopefully they'll take notice of this survey and do a proper, instead of an ad-hoc, plan for the taxi trade... and the result will allow them to review the whole 2008 policy."
The meeting of the council's Public Safety and Protection Committee also agreed to extend a deadline for all Hackney cabs to be painted in the Bristol Blue livery and the need to replace vehicles older than 10 years.
The Bristol Taxi Association said the city currently has four times the recommended number of cabs, which it says is "far too many".
But their figures are disputed by the city council which says the fleet has only increased by 100 in the past four years.