Travellers camp on Bristol beauty spot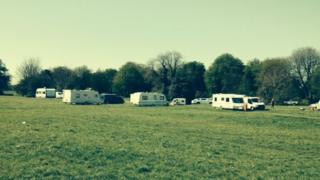 Police and local rangers are investigating an encampment of travellers on The Downs in Bristol.
The group of around a dozen vehicles arrived overnight on Friday and pitched up near the White Tree roundabout.
BBC Bristol reporter Simon Hancock, who has been to the camp and spoken to the residents, said there were a dozen caravans on the site.
"They came over from Ireland. They really didn't know where they were going to settle down," he added.
"They got to this part of the world and one of the tyres on one of the caravans blew, so they've had to stop somewhere safe to get that repaired.
"I did ask them if the rest of the contingent could have carried on, but they said that's not safe and they always travel together."
'No permission'
Mr Hancock said they did not intend staying beyond Saturday evening.
A spokeswoman for the residents confirmed one of the caravans had had a puncture, but admitted that she did not think they had any permission to be on The Downs.
"It's very hard because you're not allowed to stay where you want to stay," she added.
"If there was a site that was partly built for us, then we would have gone there."
Avon and Somerset Police have so far been unavailable for comment.
Bristol's elected mayor George Ferguson tweeted that Bristol City Council's "travellers liaison team are on the case".