Rescued Clevedon geocachers were 'never in danger'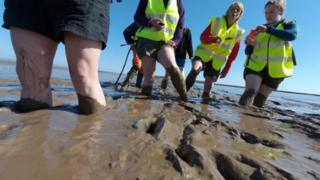 A geocaching group rescued from mud while trying to find an item on a beach said it was "never in any danger".
The group was searching for a shipwreck as part of a GPS-led treasure hunt on the beach near Clevedon, in Somerset.
Rescue helicopters and lifeboats were called by members of the public, with Roger Reed from HM Coastguard saying it was an "extremely dangerous" location.
Anthony Pengelly, from the group, said they had taken precautions outlined on a geocaching website.
"We were very well prepared with safety ropes and hi-viz jackets and knew what we were getting ourselves into," said Mr Pengelly.
Two of the group were airlifted from the mud by helicopter while others walked back to the shore.
But Mr Pengelly said this was only because one group member "twisted her knee slightly but would have been perfectly happy to walk back".
'Deep mud'
The rescue took place on mudflats, on Saturday, at Wood Spring Bay. The coastguard said people on the shore had called them concerned that the group had become stuck.
Mr Reed warned others against looking for the geocached item and said: "This was in an extremely dangerous place and we would not encourage others to search in these areas because there are complex tidal patterns and deep mud.
"We would encourage all groups who are undertaking activities such as these to contact us with details of their event so that we have all of the information we need to ensure the safety of those involved."
However Mr Pengelly said the item had been located in the same place on the beach for seven years and more than 100 geocachers had been to find it without any problems.