Severnside divers appeal for SS Baygitano information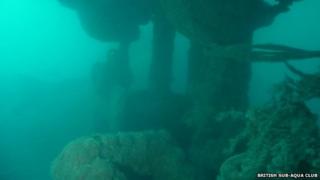 Scuba divers have asked for the descendants of a crew whose ship was torpedoed in World War One, to help them find out more about the vessel.
The British Sub-Aqua Club's Severnside branch, from Bristol, have been exploring the wreck of the SS Baygitano in Lyme Bay, Dorset.
Club members hope to boost their knowledge of the ship's missions.
A commemorative dive is planned for March 18, 2018, 100 years to the day when the ship sunk.
Archaeology award
The SS Baygitano was hit by a torpedo fired from the U-Boat UC-77, when it was travelling from Le Havre, France to Cardiff.
Both the first mate and fourth engineer were killed in the attack.
Club member Nigel Braybrooke said: "I will be trying to locate relatives of anyone who may have served on her at the time of her sinking, especially Captain Arthur Ligertwood Murrison and the two casualties, First Mate Frederick Rudolph Richards and Fourth Engineer Harold John Chinn."
The ship, which lies in the sea near Lyme Regis, Dorset, has been adopted by the diving club.
It lies almost flat on the seabed, about 20m deep and is used as a training site as well as a research project.
Most of the ship is flattened, with only the boiler, engine - such as as the medium and low pressure cylinders - and bow section which remain upright.
Last year the club won the British Sub-Aqua Club's Wreck Appreciation award for Mr Braybrooke's archaeological work.