Bristol Millennium Square solar power tree to be switched on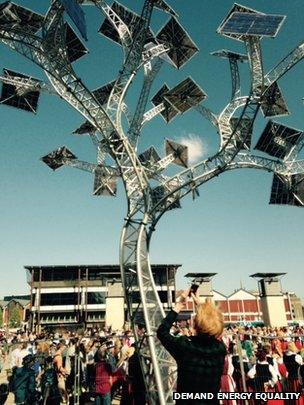 A 15ft (4.5m) metal tree with multi-directional solar panels for leaves is due to be switched on in Bristol later.
The Energy Tree, designed by artist John Packer and Bristol-based Demand Energy Equality, will provide free mobile phone charging points and Wi-Fi.
It has been built by Mr Packer with help from recovering addicts from the Bristol Drugs Project.
Bristol Drugs Project said working on the sculpture had helped "support recovery" and provide "opportunity for people in the city with a history of problematic drug or alcohol use".
"The Energy Tree reflects Bristol's commitment to provide opportunities for everyone to play their part in the European Green Capital," said Maggie Telfer, CEO of Bristol Drugs Project.
The Energy Tree is the successor to the Solar Tree built on the Edible Futures growing project in Brislington in 2012, in which 70 members of the public and community groups were taught DIY solar skills by Demand Energy Equality.
Related Internet Links
The BBC is not responsible for the content of external sites.