New church in Stoke Gifford opens following appeal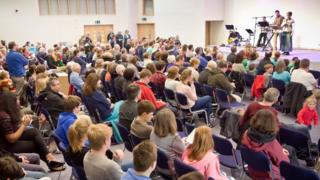 A new church and community centre which cost more than £3m to build has opened.
For a decade the largest services at St Michael's Church in Stoke Gifford were split between two buildings because the traditional church was too small.
A further phase of building work, costing £1.5m, is planned which will add another 220 seats on a balcony and a large kitchen facility.
Work is also planned to refurbish the 14th Century church which is near Bristol Parkway railway station.
The Reverend Simon Jones said: "It's been a challenge to secure the £4.2m needed to get to this stage.
"But the congregation have responded magnificently and we are now seeking to raise the £1.5m needed to finish the centre and complete the project."