Removing Bristol tree-top protesters costs council more than £1m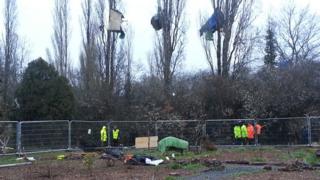 More than £1m was spent removing a 20-strong group of tree-top protesters earlier this year, Bristol City Council has said.
Rising Up campaigners, unhappy about a proposed Metrobus route, perched in trees at Stapleton Allotments for more than a month from February.
A council spokesman said the figure included legal costs, rescue teams, contractors and bailiff costs.
Elected mayor George Ferguson said it was "deeply regrettable".
"I have some real sympathy with the genuine objectors but these costs were largely caused by the involvement of a number of protestors using extreme measures," he said.
The eviction involved more than 100 staff including a team of specialists to remove campaigners chained to trees and concrete blocks in the ground safely, the council said.
"The MetroBus works at Stapleton have full legal and planning approval and these very significant costs are deeply regrettable.
"They could so easily have been avoided if protestors had complied with the court ruling or chosen to make their points in a lawful way," Mr Ferguson said.
A total of £83m needs to be saved by the city council over the next two financial years.
It said the £1m cost will be covered by the MetroBus project.