Jeremy Thorpe: Inquiry into claims police altered evidence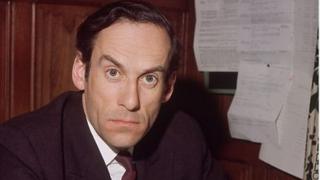 An inquiry is to take place into claims evidence was altered during the police investigation into former Liberal Party leader Jeremy Thorpe in the 1970s, the BBC's Today programme has learned.
The politician, who died aged 85 in 2014, was acquitted of conspiracy to murder the model Norman Scott in 1979.
An allegation has been made that a witness statement was changed during the original investigation.
Avon and Somerset Police has asked another force to carry out the inquiry.
The police watchdog, The Independent Police Complaints Commission, has been informed.
Thorpe won the North Devon seat for the Liberals in 1959 with his energetic campaigning, and inspiring performances as a public speaker.
He went on to serve as the party's treasurer before being elected leader in 1967, promising to turn the party into a radical pioneering force.
But his political career ended when his life became engulfed in scandal.
Stories were circulating about Thorpe's relationship with a former male model, Norman Scott which was alleged to have started in 1961, when male homosexual acts were illegal.
The story broke when Scott was appearing at a court in Barnstaple on a minor social security charge.
During the hearing, Scott shouted out: "I am being hounded because of my sexual relationship with Jeremy Thorpe."
He gave a statement to the police but no action was taken.
Thorpe issued an immediate denial but when an affectionate letter between them appeared in the press, Thorpe resigned as leader of the Liberals.
Eighteen months later, a man called Andrew Newton was released from prison.
He had been jailed on charges arising from an incident on Exmoor in Somerset in which Scott's dog, Rinka, was shot.
Newton claimed that he had been paid by a leading Liberal supporter to kill Scott because of his blackmail threats but said he had lost his nerve and shot the dog instead.
Further police investigations led to Thorpe and three associates being charged by Avon and Somerset Constabulary with conspiring to murder Scott.
At the time it was called the trial of century.
Thorpe was accused of hiring a hitman to murder Norman Scott, who believed the Liberal Party leader wanted him silenced because of the pair's earlier affair.
The politician was acquitted along with three other people in 1979.
But after Thorpe's death, a Radio 4 documentary broadcast the claims of Dennis Meighan, an antique firearms dealer who said he was originally asked to kill Mr Scott.
Mr Meighan said his police statement was later doctored to remove incriminating references to the Liberal Party and to Mr Thorpe.