Anti-austerity protesters march through Bristol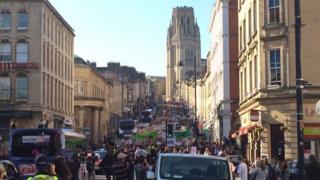 Over 1,000 people in Bristol have taken part in a march against austerity.
The protesters set off from The Centre, just after 17:00 BST.
Campaigners said they were opposing Conservative government plans for £12bn of welfare savings in an attempt to eradicate the deficit by 2018.
Tory MP Jacob Rees-Mogg said while he respected the right of peaceful protest he questioned the timing of the event. A local politician said the marchers were "just making a fuss".
"We just had a vote last Thursday where people voted for further cuts in public expenditure," the MP for North East Somerset said.
"So I would question whether this is the right time to be having a protest of this kind."
'Rag-tag and bobtail'
But protester Hannah Patterson said it was not too early to raise concerns.
"A lot of people were so affected by the coalition and then to hear the Tories' plans for the next five years - it really does paint quite a bleak picture that we are not happy about.
"We think it's a good idea to let them know we're not happy about that before they enact them out.
The former leader of the Conservatives on Bristol City Council, Peter Abraham, said he was disappointed the march was taking place.
"I don't accept this word austerity," he said.
"This is the far left and the rag-tag and bobtail of protest groups coming together and just making a fuss.
"Perhaps they are doing it because they don't like the [election] result but the people spoke and that's democracy."
Avon and Somerset Police tweeted: "Protest march has now entered Castle Park in Bristol where organisers have said it will conclude. All peaceful so far with no arrests."