Bristol couple's vintage double-decker bus home plan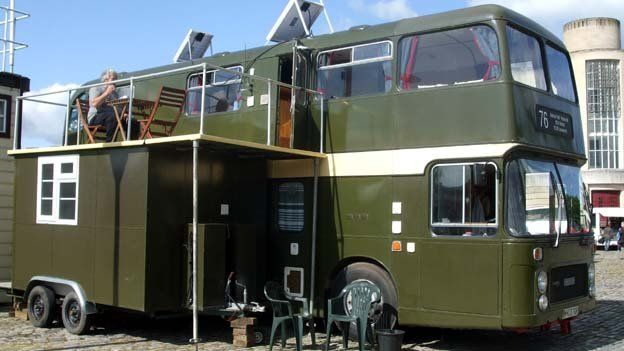 A Bristol couple who met on an open-top bus tour 38 years ago have converted a classic Bristol VR into a mobile home.
John Bowden and Marleen Bowden-Schelvis have spent 13 years and £35,000 stripping down and rebuilding the 1976 double-decker bus.
It boasts a kitchen, bathroom, lounge, bedroom and top-deck sun terrace.
The couple, who are fans of sustainable living, have also installed solar panels and wind generators to power all the bus's mod cons.
The bus itself runs on diesel. "If it was possible to run the bus on chip fat then I would," said Ms Bowden-Schelvis.
Mr Bowden was the driver of an open-top Leyland travelling across Europe when he met Marleen, who is Dutch.
The couple settled in Bristol but as they could not afford a house, they decided to "keep the bus thing going".
They converted their first bus, a Bristol Lodekka, when they were expecting their first child and lived on it in the Bristol Docks, in the early 1980s.
They moved into a house in Sea Mills after their second child arrived.
Furniture has been made to fit the curves of the bus, which expand and contract in the heat.
A wood burner keeps it warm but a question mark remains over whether the bus would keep out the heat in Portugal, where they are thinking of moving to next.
The cost of the work means it could prove difficult to recoup their costs and as the couple are so attached to the VR, they do not want to sell it, if they do move abroad.
They said they may take it with them, or rent it out as a holiday home.