Bristol mayor and councillors reject rise in allowances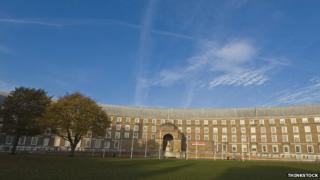 Bristol's mayor and the city's councillors have voted to reject a recommended rise in their allowances.
Mayor George Ferguson told a council meeting that "huge pressure on our resources and services" had to influence every decision taken.
An independent panel recommended his allowance rise by more than £8,000, with councillors receiving an increase of more than £900.
Labour group leader Helen Holland said it would be "completely inappropriate".
Mr Ferguson is currently paid an allowance of £66,395 which would be set to £75,000 under the recommendation.
The basic allowance of a councillor is £11,530 and that would increase to £12,500. All 70 Bristol councillors are entitled to the sum, with some eligible for additional allowances.
'Under attack'
Conservative group leader Mark Weston said the recommendations would have added more than £100,000 to the overall bill and that was "simply unacceptable".
Green Party councillor Charlie Bolton said the current allowance was "sufficiently low" that it prevented a lot of people applying - something that was "an act of overt bias in favour of the wealthy".
However, he said "local government is under attack" and they could not support an increase in total expenditure.
Under legislation councils have to set up a panel to make recommendations on councillors' allowances.
The panel said in making its recommendation it needed to make sure the council attracted "high quality candidates with the skills, knowledge and experience".
Mr Ferguson said: "It's right that hard work is properly rewarded but it has to be in line with our wider goal of leading by example."
In March, the government agreed to increase public sector pay by up to 1% in 2015/16, following four years of pay freezes and rises capped at 1%.
The report will now be referred back to the independent panel.