Becky Watts trial: Shauna Hoare lied about kidnap texts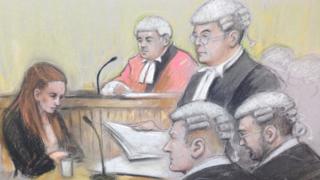 The woman accused of murdering Becky Watts lied to police when they found messages she sent about kidnapping teenage girls, a court has heard.
Shauna Hoare said she denied sending the Facebook and text messages to her boyfriend Nathan Matthews because she felt "panic".
She told Bristol Crown Court she had known "how bad it looked" because he had been charged with Becky's murder.
She and Mr Matthews deny murder and conspiring to kidnap his stepsister.
Becky, 16, went missing on 19 February and her body was found in a shed several days later.
'Violent and controlling'
In one of the messages, sent between November and December last year, Ms Hoare wrote: "Just went into Costcutter and saw a pretty petite girl. Almost knocked her out to bring home lol xoxo."
Mr Matthews replied 20 seconds later urging her to "do it".
Ms Hoare said she "massively" regretted lying to police.
"One, I should not have lied and, second, because of the way it looks, I should have told the truth in the first place," she said.
She said she had made up the girl to put Nathan in a "happy mood" - having previously told the court he had an "interesting" sense of humour.
"Did you think that Nathan was going to go and kidnap a girl?," Andrew Langdon QC asked.
"No," she replied.
Earlier, Ms Hoare told jurors that during their six-year relationship Mr Matthews could make her laugh, but also be violent and controlling.
He dragged her by the hair across a bed and made her beg for food and would scream and shout at her, which she described as "terrifying".
'Nowhere to go'
She said she had talked to a friend about leaving Mr Matthews, but could not go through with it.
"I had nowhere to go. I had no-one else. He would find me. It would just go back to normal if he found me," she told the court.
She denied watching pornography with Mr Matthews and said she did not know anything about a pornographic film found on his laptop about the rape of a teenage girl.
Mr Matthews, of Hazelbury Drive, Warmley, South Gloucestershire, admits perverting the course of justice, preventing lawful burial and possessing a prohibited weapon.
Ms Hoare, 21, of Cotton Mill Lane, Bristol, denies murder and conspiracy to kidnap, a weapons charge, perverting the course of justice and preventing a burial.
Two other men, Donovan Demetrius, 29, and James Ireland, 23, deny assisting an offender.
The trial continues.