'Bristol' number plate sells for more than £20k at auction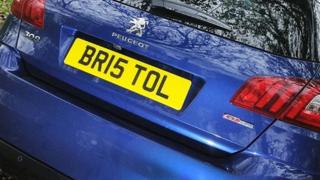 A proud Bristolian has paid more than £20,000 for a registration plate in close correlation to the city's name.
The man, who wants to remain anonymous, paid nearly 30 times the reserve price at an auction in Gloucestershire.
The plate - BR15TOL - was one of 1,600 registrations up for auction.
A DVLA spokesman said: "I don't believe anyone can argue it's as close to the city's name as you're going to get and perfect for any proud Bristolian."
The number plate had a reserve price of just £700.
But with "every phone booked" for the lot, the DVLA said bidding opened at £7,000 and it was quickly sold for £20,168 - including VAT and fees.
The sum falls short of the highest-fetching registration of all time "25 O", which sold for £518,000 at a special 25th anniversary auction in November 2014.