999 distress call victim 'was goat'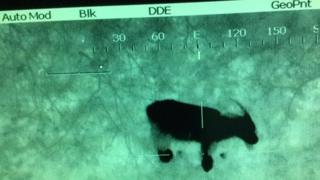 Police who responded to a 999 call fearing a person was in distress found the noise was made by a goat.
A National Police Air Service (NPAS) helicopter was used in the search after a passer-by reported hearing a "repeated" wailing noise from Bristol's Avon Gorge on Sunday.
A spokesman said cries of goats "can be mistaken for humans in distress".
The crew tweeted "we may have found the culprit", and posted a picture of the animal taken from the air.
Ollie Dismore, from the NPAS, said: "A National Police Air Service (NPAS) helicopter was yesterday involved in a response to a 999 call at the Avon Gorge in Bristol.
"As the difficult nature of the terrain meant that a search on foot would not be possible by the local Avon and Somerset police force, they called in the police helicopter to take on the search and NPAS Filton responded to the call."
He said no humans were found by the helicopter crew but a "number of goats were discovered during the search".
The spokesman added: "The police appreciate the efforts of this caller as they do all callers who support their work by alerting them to incidents which they may otherwise not be made aware of.
"Reports of this nature are taken seriously in order to ensure that public safety is maintained and individuals safeguarded."
The goat is thought to be one of a group released on to the Avon Gorge in 2011 to try to save rare wild flowers and control the growth of scrubby vegetation.