Firefighter Fleur Lombard honoured 20 years after her death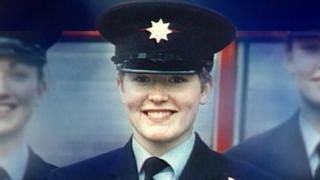 The first woman firefighter to die on duty in peacetime Britain has been honoured in a ceremony by colleagues.
Fleur Lombard died fighting a blaze started by an arsonist at Leo's supermarket, near Bristol in 1996.
The 21-year-old was posthumously awarded the Queen's Gallantry Medal in 1998 in recognition of her bravery.
To mark the 20th anniversary of her death, staff from Avon Fire and Rescue held a one minute's silence and laid wreaths at her memorial in Staple Hill.
Ms Lombard was one of only eight women employed by Avon Fire Brigade when it was called out to reports of a supermarket fire on 4 February 1996.
As she was heading out of the building she was separated from her colleagues and died in the intense heat.
Chief fire officer Kevin Pearson said it was a reminder to the service and the general public of the risk firefighters face.
"Every year since Fleur's death our staff mark the anniversary and there is no doubt in my mind that she will never be forgotten," he said.
"We hope this tribute will show that the memory of Fleur lives on but so too does her legacy."
Ms Lombard received the Silver Axe Award for most outstanding recruit on graduating in 1994.
Following her death the Fleur Lombard Bursary was set up to help staff progress their careers in the fire and rescue service.