Rees-Mogg in 'Avon' fear over West mayor plans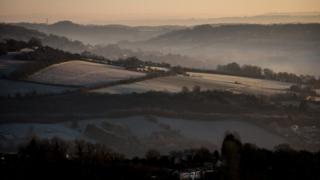 Plans to create a directly elected West of England mayor are "dreadful" and should be rejected, a local MP said.
Conservative Jacob Rees-Mogg urged Somerset councils to oppose a "recreation of Avon", the former county abolished in 1996, for "a trivial amount of money".
But Bristol's mayor said the "economic deal" could generate £1bn a year and criticised "scaremongering" over Avon.
The deal would devolve powers to a new combined authority.
The plan was announced in Wednesday's budget but has yet to be agreed by Bath and North East Somerset (Banes), Bristol City, North Somerset and South Gloucestershire councils.
If agreed, a new mayor to chair a West of England Combined Authority would be elected in May 2017. The four councils would remain and keep their existing powers.
MP for North East Somerset Mr Rees-Mogg told BBC Radio Bristol: "I hope Banes will not sign up to this dreadful deal.
"It's creating an unwanted bureaucratic tier that is the same as Avon, which was a failure... it is ignoring the lesson of a past historic mistake."
A metro mayor would "inevitably be more interested in Bristol" yet would be given planning powers "over where we build on Somerset's green fields", he said.
And he said that the government's pledge of £30m a year, for 30 years, worked out as less than the councils had cut from their budgets since 2010.
But he was accused of "mischief" by Bristol's mayor George Ferguson who said the deal was "economic" not political.
The region would be able to raise more money by borrowing and accountants KPMG were "absolutely convinced that this will boost the local economy... by over £1bn a year", he said.
Mr Ferguson said the three counties surrounding Bristol would be able to "out vote" the city.
"This is nothing to do with Bristol domination."