Bristol mayor halts resident parking scheme roll-out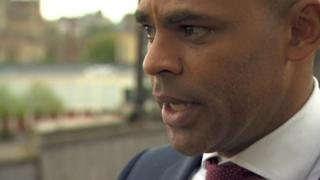 Bristol mayor Marvin Rees has frozen the cost of parking permits until 2020, and halted the roll-out of resident parking zones (RPZ) across Bristol.
In a speech to the AGM at Bristol City Council, Mr Rees also introduced his cabinet members and his main goals in his role as mayor.
Mr Rees added that Blue Badge holders who park in RPZs would no longer be penalised.
He also pledged to tackle child poverty, inequality and housing.
The Labour politician said he would act on his promise as a "mayor that listens".
He added: "It is in this spirit that I have asked council officers to bring forward plans to enable all councillors to work with their neighbourhood partnerships to undertake a review of RPZs and 20mph zones in their communities, and to make recommendations on how they can be made to work for people."
Mr Rees said this decision meant RPZs would be left in the hands of councillors, businesses and communities.
They will now only be put into place if communities specifically request them.
Other pledges made in the speech included:
Building more affordable homes
Eliminating the race and gender pay gap by creating a Living Wage Partnership
Building a new household recycling centre in Hartcliffe Way
Bidding to become the 2023 European Capital of Culture
Mr Rees was elected as Bristol city's mayor earlier in May.
He achieved almost 30,000 more votes than independent candidate George Ferguson, who had held the leadership position since 2012.
The RPZ scheme was introduced by the former mayor who wanted to "give the streets back to residents and businesses".
His aim was to reduce the problem of pollution and congestion related to commuter parking.
However, businesses and residents claimed it was disastrous, and an online petition calling for a cancellation of the scheme was signed by more than 4,350 people.