Bristol Metrobus road closure finally begins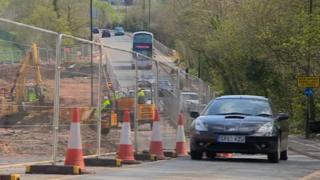 Work on a busy Bristol commuter route traffic system has finally started.
Stoke Lane in Stapleton has become one-way so the road can be widened in preparation for the new Metrobus.
Bristol City Council postponed the work in April after protests from residents and again in May so more traffic assessments could be done.
Instead of the year-long change, which was originally planned, the road will be made one-way for six months before the impact on traffic is assessed.
However, Richard Gillingham, who is overseeing the project for Metrobus, said the work will now take longer to complete than originally planned.
"Even though the one-way system will be on for six months, there will be temporary traffic lights under a two-way system for nine months after that."