Giant chalk poppy work begins at Fovant Down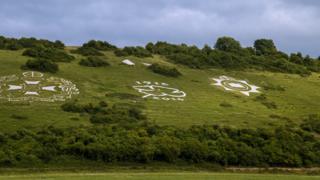 Work has begun on carving a giant poppy into the side of a Wiltshire hillside, 100 years after soldiers created the first emblem at the site.
The 25m (82ft) design is being added to a group of eight giant chalk regimental crests, known as the Fovant Badges, near Salisbury.
It will be the first new addition to the collection since 1970.
The first badge was built in 1916 by soldiers who were stationed nearby during the war.
Volunteers will test various theories about how the original badges were constructed as they carry out the work, which is expected to take about six weeks.
The Fovant Badges are recognised as war memorials and are also scheduled ancient monuments.