Bristol street preachers arrested for refusing to move on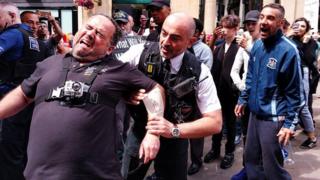 A group of religious street preachers were arrested after refusing to stop addressing shoppers in Bristol.
Four men were held on suspicion of public order offences after officers attended Broadmead shopping centre, an area known for open-air preaching.
A video on the Bristol Post website appeared to show a preacher being told he was "not welcome" before refusing to leave and being led away by police.
The four were bailed until later this month after the incident on Wednesday.
The video appeared to show one of the Christian preachers shouting "the purpose of mankind is to worship God and enjoy him", among other things which were not audible.
A crowd of shoppers cheered after he was moved away.
A Facebook post from US-based Cross Encounters Ministries, which the men are believed to be affiliated with, said the men had been "rejoicing and singing hymns in their cell(s)".
However. a spokesman said the men were not members of the religious group but "represent their own ministries and churches".
Responding to the Bristol Post story, Craig White posted on Facebook: "Religion should be confined to places of worship, not streets full of shoppers."