Avon and Somerset Police sorry over 'Asking 4 It' leaflet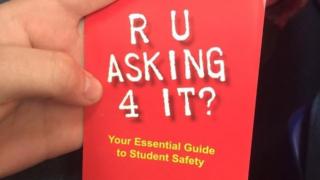 A police force has apologised after a sexual assault prevention leaflet titled R U Asking 4 It? was given to teenagers.
Avon and Somerset Police, which handed out the brochures at a safety workshop, was accused of "victim-blaming".
After an angry social media response from pupils at the north Bristol post-16 centre, the force admitted the leaflets were "inappropriate and out of date".
It said they have now been destroyed.
Writing on Twitter, Eloise Mainstone said: "We should be teaching people not to rape, not teaching us how to avoid it."
And Chloe Yelland wrote: "I'm ashamed that you have the audacity to 'Victim Blame' teenage girls with low cut tops..."
Police said the leaflets, which also contained information about vehicle crime and robberies, have been destroyed.
Chief Inspector Marie Wright said: "There are no excuses for rape. The victim is never to blame.
"Our stance couldn't be clearer and the students were right to challenge the incorrect message."