Prison governor wants longer sentences to help female inmates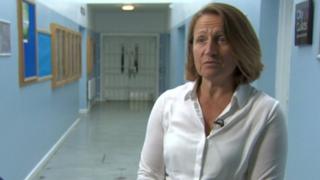 The governor of a women's prison has called for longer jail sentences to help offenders who have been abused.
Suzy Dymond-White, governor of HMP Eastwood Park in Falfield, South Gloucestershire, has appealed for judges to hand down longer sentences.
She said it was "impossible" for inmates to be rehabilitated "in a few short weeks".
An estimated 50% of inmates at women's prisons have been victims of abuse.
Ms Dymond-White said one of the biggest challenges was the number of women prisoners who are abuse victims.
She said: "It's incredibly difficult for women to turn round and walk away from somebody who might be abusing them, with potentially very young children, when the alternative is to be on the street.
"If you give them the opportunity where they can earn a living and they can sustain a life independent to that, it does give them a chance.
"It's absolutely impossible in a few short weeks to turn somebody's life around and undo decades of abuse."
However, economist Vicky Pryce, who spent a short time in prison and has written a book that argues the prison system is failing, said longer sentences were not the solution.
She said: "Many women in prison have committed very trivial offences, but they have long histories of abuse and mental problems, parenting issues and alcohol abuse.
"All these things need treating, but prison is not the environment where you can get these things sorted out."
She said there were "better alternatives" to prison, such as women's centres, for many female offenders.
She said: "You can really get the bespoke help that you need. They cost an awful lot less, and they keep people close to their families."