Soldier shot for desertion in World War One remembered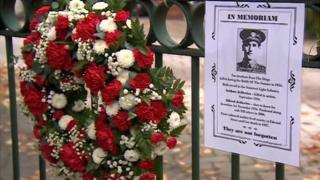 A Bristolian soldier shot for desertion in World War One, has been remembered 100 years after his death.
Alfred Jefferies, who served in the Somerset Light Infantry, was court martialed after leaving the trenches at the Battle of the Somme in 1916.
David Jefferies, his great-great-nephew, said none of the family knew how he had died and had been "horrified" when they found out.
A wreath was laid at Dings Park in St Phillips, near where he had lived.
Alfred Jeffries was one of the first to sign-up following the outbreak of war, but in his first year was hospitalised with an an eye wound and for shell shock.
By 1916 he was in the 6th Battalion of the Somerset Light Infantry and "clearly disoriented", according to Geoff Woolfe, from the Bristol Radical History Group.
"He wandered away from the reserve trenches just before they were due to go into action the next day," he said.
"He was arrested at Le Havre and eventually court martialed for attempting to desert and sentenced to death.
"As far as we can tell he was the only soldier from Bristol who was shot for desertion or cowardice."
In the local newspaper, it said he had been killed in action.
David Jefferies, said he was "very upset" as his family knew nothing about how he had died.
"I don't know if the family didn't talk about it or whether they simply just didn't know," he said.
"But as far as I am aware my grandparents weren't aware of it, my father definitely wasn't aware of it - so it was all news to us."
More than 300 British solders were executed during World War One for desertion or cowardice.
Alfred Jefferies was awarded a posthumous pardon in 2006.